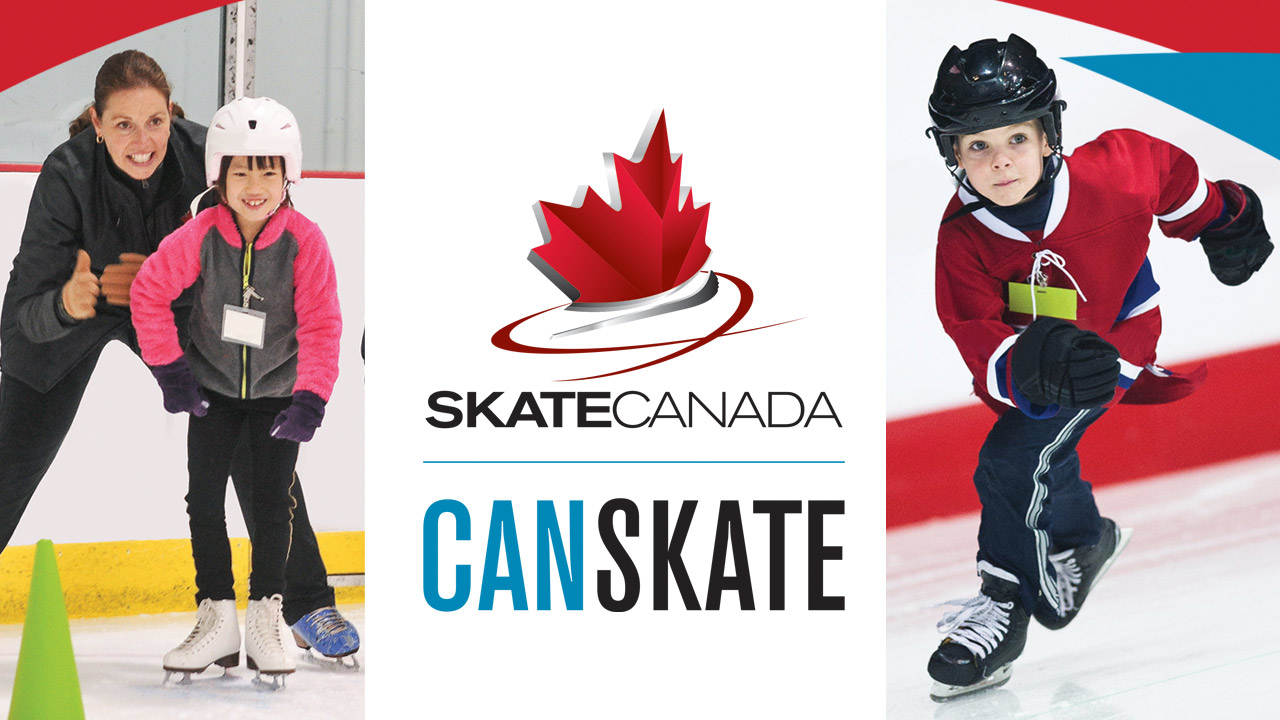 5 years & up!
Professional Coaching Staff. 6-10 Skaters in a Group. Payment Reserves Placement
For inquiries, questions, comments, etc, please contact

learntoskate.sasc@gmail.com
Covid Update:
Please note due to Covid restrictions Learn to Skate instructors are unable to provide hands on support to skaters.
For Fall 2020 all skaters will need to be able to stand up unassisted to register and participate in our learn to skate classes.
---
CANSKATE is our flagship learn to skate program, designed for beginners of all ages.
When you sign up for CANSKATE you will be in a program that focuses on fun, participation, and basic skill development. You will earn badges and other incentives as you learn fundamental skating skills. Lessons are in a group format and led by a CANSKATE Certified Professional Coach. Professional Coaches are assisted by trained Program Assistants(PA's). The Coach/student ratio is 1:10. Skaters progress at their own rate and coaches make sessions active using teaching aids, music and a wide variety of activities that create a fun environment and promote learning. CANSKATE is the feeder program to all other Skate Canada Skating Programs.
Recommended amount; 1-3 days a week in Fall and/or Winter. 2 days/week in Summer
---
CANSKATE
Fall 2020 - (September - December)
Day
Date
Time (PM)
# of Classes
Cost
No Skating Dates
Sunday 1
Sept.13-Dec.20
3:45-4:30
13
235
Oct.11,Dec.6
Sunday 2
Sept.13-Dec.20
4:45-5:30
13
235
Oct.11,Dec.6

Tuesday Go Auto Arena

Sept.8-Dec.15
6:15-7:00
15
270
Wednesday
Sept.9-Oct.21
5:30-6:15
7
125
Saturday 1
Sept.12-Dec.19
11:45-12:30
13
235
Oct.10, Dec.5
Saturday 2
Sept.12-Dec.19
12:45-1:30
13
235
Oct.10,Dec.5
Wednesday 1

NEW

Oct 28-Dec 16
5:30-6:15
7
125
Nov 11
CANSKATE
WINTER 2020 - (January - March)
Day
Date
Time
# of Classes
Cost
No Skating Dates
Sunday #1
Sunday #2

Tuesday #1

Go Auto Arena

Tuesday #2

Go Auto Arena

Wednesday
Saturday #1
Saturday #2
Spring

CAN

Skate
(April-May)
| | | | | | |
| --- | --- | --- | --- | --- | --- |
| Day | Date | Time | # of Classes | Cost | No Skating Dates |
| Wednesday | April 7- May 26th | 5:30-6:15pm | 8 | $145.00 | |
| Monday | April 12 - May 31 | 6-6:45pm | 8 | $145.00 | |
| Sunday | April 18 - May 30 | 3:45-4:30pm | 7 | $125.00 | |
*Skaters must attend a minimum of 10 classes to receive a report card.
This ensures a natural progression in the improvement of the skater to warrant a concise report card.
Notifications of testing will be posted on our website.
---
1) Cancellation/Refund/Fee Policy: Any class adjustment fees (moving day, changing class, etc.) pay balance of next program. No switching days because of missed classes or to make up days. No refund available for any reason. Family credit only with doctor's note (credit expires in 12 months from issuing date).
2) Club Information: Please ensure you have given a current email address on the registration form as all notices and newsletters will be sent via email for the upcoming season. It is your responsibility to check these notices or the SASC website: www.stalbertskatingcentre.com for all skating information.
3) Equipment: Skater must supply their own skates, hockey helmet (no bike helmets), mitts and warm clothing. Please be sure your child's skates are fit properly, and they can sit down/stand up in their track/snow pants. This ensures optimal performance for the individual skater.
4) Class Description:

This program teaches the fundamentals of skating (forward, backward, stopping, turning and jumping) while emphasizing fun and fitness. Children are prepared for Hockey, Ringette, Speed Skating, or our next figure skating program, Jumpstart. Minimum age requirement is 5 years of age or passed our Pre-CanSkate program.
*Skate Canada Fee ($40.00): Payable once a season beginning on September 1st of every year (Not included in the prices)