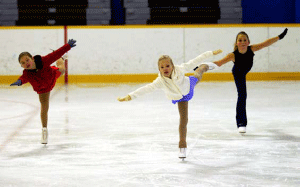 STAR 1 - Group Figure Skating Program
STAR 1- Group Figure Skating is the "Transitioning Program" into our Figure Skating program designed to fast-track keen CanSkaters/Advanced CanSkaters/StarSkaters who display potential to be STARSkate and Competitive skaters.
Skaters that are registered in the Group Figure Skating 2 day program may also participate with our Junior "Academy" skaters through the week. The optional/extra days of skating are during our Junior sessions on Thursday, Friday, Saturday or Sunday.
Skaters 5 years old (approx.) and up are taught basic Figure Skating skills in a fun, progressive and sequential manner. Skaters are taught in a small group setting by our Nationally Certified Professional coaches in a fun and positive environment.
Private Lesson's opportunities are available with the coach of your choice. Semi-private, private or both.
For other information please select the appropriate program selection in the "Figure Skating" menu.
Criteria for moving into the Group Figure Skating Program are CanSkate Stage 3-6. Ages 5 and up.
Professional Coaching Staff. 7-10 Skaters in a Group. Payment Reserves Placement.
Fall/Winter and Summer programming is available. Please ask any of our staff for further details.
*
Semi Private or Private Lesson Opportunities:
Star 1/Junior "Academy" - shared with Junior "Academy" ice times (Privates).
SASC Star 1-3 "Fun Meet" Club Competition: We will be having our 6th Annual "STAR" Competition held at SASC where this educates Parents and skaters of what a "STAR" competition looks like for future competitions. Details will follow at later date.
SPRING 2020
Day
Date
Time
# of
Cost
No Skating Dates
Monday/Thursday

5:45-6:45pm

60 Minute Class

11

$350.00
SUMMER 2020
Day
Date
Time
# of
Cost
No Skating Dates
Monday/Thursday

5:15-6:15pm

60 Minute Class

10

$295.00
FALL & WINTER 2020/21
| | | | | | |
| --- | --- | --- | --- | --- | --- |
| 2 Day Program | Date | Time | # of weeks | Cost | NO Skating Dates |
| Monday/Thursday | Sept.3-Dec.17/Jan.4-Apr.15 | 5:45-6:45pm | 30 | | Sept.7, Oct.12,Feb.15,Apr.5 |
*Partial season options also available
---
1) Cancellation/Refund Policy: No refund available for any reason. Family credit only with doctor's note (credit expires in 12 months from issuing date).
2) Club Information: Please ensure you have given a current email address on the registration form as all notices and newsletters will be sent via email for the upcoming season. It is your responsibility to check these notices or the SASC website: www.stalbertskatingcentre.com for all skating information.
3)

Skating Attire/Equipment:

The skating dress code is a must and an important learning tool for the presentation of the sport and safety of the individual skater. Figure Skating is about the visual appearance of the skater performing on ice in practice or competition. We want to have the skater learn this from the beginning. All skaters are required to have skating dress or yoga attire, warm tights, leg warmers, sweater, hair pulled back in pony, mitts or gloves and figure skates. Skater must supply their own skates and wear appropriate skating attire:
1) Proper skating attire is required. No jeans, winter jackets or hooded sweatshirts are allowed. - For girls this means a skating dress, gloves, sweater, beige tights, and hair pulled back into pony tail. - For boys this means track pants, gloves, and a sweater.
2) Figure skates are required for all skaters.

3) Helmets are OPTIONAL

.
4) Class Description: Star 1 is the next step from CanSkate for skaters who are keen on learning skills specific to Figure Skating. There is no age limit in Star 1. Instead, entrance is based on ability and willingness to learn. The minimum requirement for a skater to enter the Star 1 program is to have passed Level 5-6 in CanSkate or evaluated as to be ready by SASC coaching team.
5) Cost : Below costs include all on-ice and coaching fees as well as club membership and fun days. Instalment options available.
Skate Canada Fee ($40.00): Payable once a season beginning on September 1st of every year.
*One mandatory volunteer shift requirement (see fundraising tab for more details)
Star 1 Programming is 1-2 days/week on Monday and/or Thursday.
6) Session Break Down: Monday/Thursday On-Ice 60 minutes. Approximately 5 min. Group Stroking/warm up, 3-6 group specific skill development, 10 min. Stroking, 15 min. Spin, Dance, Freeskate Stations, 5 min. Independent practice/interpretive time.
7) *Semi Private or Private Lesson Opportunities: Star 1 is shared with Junior Academy Star 1-4(Privates) Thursday, Friday, or Sunday
* Note; private coaching fees and ice is not included. This is paid separately from the Group Figure Skating Program. Private Lessons available on Thursday, Friday and Sunday with Junior Academy ice times (please check with coaches for details). Programming is according to Academy scheduling and must meet program criteria (working on CanSkate Level 4-6) or higher. Skaters will practice and perform a range of coordination exercises, balances, stretches and basic skating positions with skill development. (To be done with coach of choice or appointed coach) Ice fees applies to a session that you are adding on to. Please check Star 1/Junior Academy (Private lessons) pricing.
8) Season Calendar: Please remember to check our website under the "News" link for any changes, cancellations, updates on events, etc.