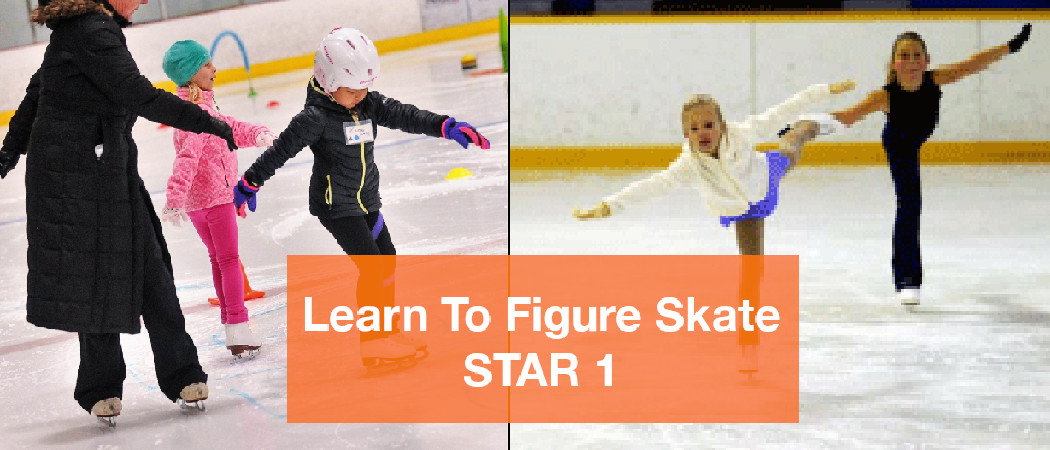 Star 1 Group Figure Skating
Two days/week - Group Lesson Program


STAR 1 Group Figure Skating is the "Transitioning Program" into our Figure Skating Academy designed to fast-track CanSkaters/Advanced CanSkaters who desire to be STARSkates or Competitive figure skaters. Learn to Figure Skate - Star 1 is a two day, group lesson program taught by our professional Coaching Staff and incorporates basics of skating along with figure skating spins, jumps and ice-dancing.
5:15-5:30pm off-ice & 5:45-6:45pm on-ice
Skate Canada Fee of $45 is not included and is due Annually with Fall Registration.
Mandatory Volunteer Requirements are One Shift per Family at December/Fall Competition.
On and Off Ice instruction included
Must have Figure Skates, see below for suggestions or brands and stores.
Must be Stage 2 or higher in CanSkate, f
or ages 5+
Helmets are not mandatory depending on skating level
NO SKATING October 10th - Thanksgiving
NO SKATING October 31st - Halloween
Holiday Concert Practice and Show Included
Fun Meet 2023 (Element Competition) Recommended - fee not included
Spring Pop Concert Included
Season Awards Banquet Recommended - fee not included

Criteria: CanSkate approximately Stage 3 or talent ID'd by SASC Coaching Staff. Ages 5 and up but will consider younger skaters. Desire to Figure Skate. Ability to skate Forward and Backward and glide on one foot.
Skating Attire/Equipment: All skaters are required to have skating dress or yoga attire, warm tights, leg warmers, sweater, hair pulled back off of face, mitts or gloves and figure skates.
Skates are very important: Figure Skates must be a worn to be able to fully learn the skills being taught. Skates can be purchased and fitted at ProSkate 16972-111 Ave.,Edmonton, AB T5M 4C9, (780) 481-5532 or United Cycle 7620 Gateway Blvd NW, Edmonton, AB T6E 4Z8, (780) 433-1181 If you are purchasing skates at other stores, you may not be buying the correct type of skate for this program.
We recommend: JACKSON CLASSIC 500 OR JACKSON JS1791 ARTISTE GIRLS FIGURE SKATES OR EQUIVALENT
*Semi-Private or Private Lesson Opportunities: We recommend skaters who want to progress faster to take a private lesson along with their existing two day Learn to Figure Skate- Star 1 program. The Semi-Private or Private lessons are on shared ice with the Junior Academy skaters and NOT INCLUDED in the price of Learn to Figure Skate - Star 1 Group Program. Contact our coaching staff for further information.
SASC STAR "Fun Meet" Club Competition: We will be having our 7th Annual "STAR" Competition held at SASC. This is an event for STAR 1 skaters to perform their skills and receive incentives and feedback. Details will follow at later date. (This is NOT included in your fees.)
---
1) Cancellation/Refund Policy: No refund available for any reason. Family credit only with doctor's note (credit expires in 6 months from issuing date).
2) Club Information: Please ensure you have given a current email address on the registration form as all notices and newsletters will be sent via email for the upcoming season. It is your responsibility to check these notices or the SASC website: www.stalbertskatingcentre.com for all skating information.
3) Cost : Costs include all on-ice and coaching fees as well as club membership and fun days. Instalment options available. Skate Canada Fee ($45.00): Annual. Payable once a season beginning on September 1st of every year.
5) Season Calendar: Please remember to check our website for any changes, cancellations, updates on events, etc.